Sus­tain­able growth in the water mar­ket is fueled by sev­er­al long-term trends — glob­al water scarci­ty, cli­mate change, increas­ing envi­ron­men­tal reg­u­la­tions, increas­ing lev­els of water pol­lu­tion and aging water infra­struc­ture as well as aspir­ing emerg­ing mar­kets where water infra­struc­ture instal­la­tions are imper­a­tive.
---
Water as a sustainable Common Stock Investment
Engage­ments in the water indus­try are increas­ing­ly regard­ed as promis­ing and long-term prof­itable invest­ments. So far, pri­vate investors are offered this option only via the stock exchange, where­as pre­cious met­als or even agri­cul­tur­al prod­ucts can be phys­i­cal­ly bought. How­ev­er, the invest­ment top­ic 'water' is much less about increas­ing the val­ue of one unit of water, as is the case with one ounce of gold, but rather about the many oppor­tu­ni­ties and ben­e­fits that invest­ment in the water indus­try can bring. But even the price per cubic meter of water shows an increase over the last few years. Accord­ing to a study by IBM Research, the glob­al water price in Q1 2008 to Q4 2013 increased by 16.6% in US-Dol­lars. In Lon­don, for exam­ple, over the same peri­od by 9.4% and in Sin­ga­pore by 50.0%. Water util­i­ties, as the name implies are main­ly active as drink­ing water sup­pli­ers in cer­tain regions, are those com­pa­nies ben­e­fit­ing most from ris­ing water prices. The advan­tages of util­i­ty stocks in gen­er­al often lie in a high­er div­i­dend yield com­pared to oth­er sec­tors, a more sta­ble cash flow and a bet­ter infla­tion pro­tec­tion because util­i­ties are more flex­i­ble in times of ris­ing infla­tion as they can bet­ter adjust their prices to the cur­rent infla­tion rate. For exam­ple, the Amer­i­can water util­i­ty Amer­i­can States Water has been dis­trib­ut­ing a div­i­dend every quar­ter since 1931. Since 1955, it has been grad­u­al­ly increas­ing its div­i­dend each year. How­ev­er, investors should not con­fuse the safe­ty of a busi­ness with the safe­ty of an invest­ment. Even the high­est-qual­i­ty asset can become a risky and unprof­itable invest­ment, if the stocks are ini­ti­at­ed at the wrong price.


Invest in various Water Sectors
Nowa­days, the investor can invest in spe­cif­ic sec­tors of the water indus­try through the stock exchange. Thus, water tech­nol­o­gy is an inter­est­ing and promis­ing sec­tor when one con­sid­ers that prob­a­bly until 2025, espe­cial­ly in the south­ern part of the world, there will pre­vail a so-called "Eco­nom­ic Water Scarci­ty". In oth­er words, a water short­age which occurs due to a lack of tech­nol­o­gy to use the exist­ing water resources prop­er­ly.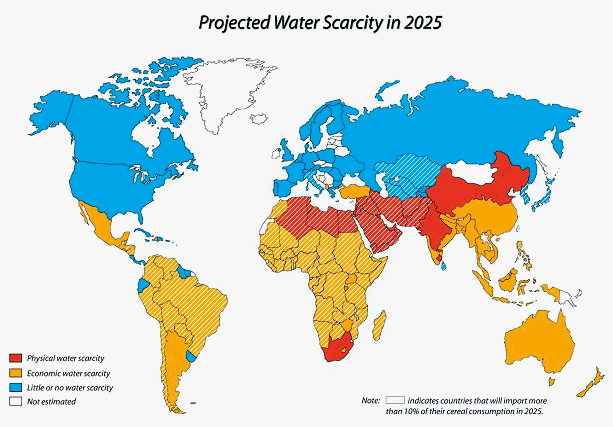 Quelle: http://www.fewresources.org/
The required water is the­o­ret­i­cal­ly avail­able but it can not be used due to lack of tech­nol­o­gy and infra­struc­ture which is a con­se­quence of under­fund­ing for many years by the com­pa­nies and by the gov­ern­ments. Pri­vate-sec­tor com­pa­nies will also suf­fer from this lack of water as they are some­times depen­dent on enor­mous amounts of water for their pro­duc­tion process­es. As a result, increased invest­ment by pri­vate sec­tor com­pa­nies in water tech­nol­o­gy and infra­struc­ture is expect­ed as water is right­ly seen as a cor­ner­stone of the econ­o­my.
Accord­ing to the Civ­il Soci­ety of Civ­il Engi­neers, the Unit­ed States Civ­il Engi­neer­ing Asso­ci­a­tion, by 2020 approx­i­mate­ly 45% of the water sup­ply net­work in the US will be in a flawed to frag­ile state. This is the result of years of unsuc­cess­ful and under­fund­ed invest­ments in the US water infra­struc­ture. In some cas­es, there are even still water pipes made of wood. The rea­son for the ail­ing state of the US water infra­struc­ture is the lack of pub­lic funds. How­ev­er, the pri­vate sec­tor is already par­tial­ly tak­ing over these tasks from the state. Water infra­struc­ture main­te­nance is being pro­gres­sive­ly pri­va­tized in the US result­ing in fur­ther inter­est­ing and long-term invest­ment oppor­tu­ni­ties. Only tak­ing into account that about 80% of the water man­age­ment is still con­trolled by the pub­lic sec­tor, it should be not­ed what poten­tial con­tin­ues to lie in the US water indus­try for pub­lic com­pa­nies. Investors should take a prag­mat­ic approach about their invest­ment behav­ior. The reha­bil­i­ta­tion of pip­ing sys­tems can reduce water loss­es enor­mous­ly. Com­pa­nies that spe­cial­ize in detect­ing leaks would ben­e­fit great­ly from these invest­ment mea­sures. By con­trast, com­pa­nies that offer intel­li­gent water meters or toi­let flush sys­tems ben­e­fit from gov­ern­ments' efforts to use water more effi­cient­ly and more eco­nom­i­cal­ly. The oppor­tu­ni­ties for investors are thus wide­ly spread, but of course also asso­ci­at­ed with a cer­tain amount of prepa­ra­tion.


Diversification
Sim­i­lar­ly, an ETF can invest in the invest­ment top­ic 'water'. The advan­tage of an ETF is a wider diver­si­fi­ca­tion of the investor's mon­ey, in oth­er words, a high­er diver­si­fi­ca­tion with­in the water indus­try itself. How­ev­er, for this risk lim­i­ta­tion, an annu­al fee of round about 0.6% of the fund's total must be paid to the ETF man­age­ment each year. In gen­er­al, invest­ing in the water indus­try has the advan­tage of being less depen­dent on eco­nom­ic activ­i­ty. Nonethe­less, investors should nev­er invest all their mon­ey in water stocks even if they invest in dif­fer­ent sec­tors. Here, investors should stick to the basic prin­ci­ples of invest­ing, name­ly, always to ensure a rea­son­able diver­si­fi­ca­tion of your mon­ey and nev­er tend to bet on a sin­gle stock or sec­tor no mat­ter how allur­ing it might seem. Dur­ing and short­ly after the finan­cial cri­sis of 2007, water tech­nol­o­gy stocks, water infra­struc­ture stocks and even water util­i­ties fell togeth­er with the broad­er mar­ket. The rea­son for this was the decline in pri­vate and pub­lic invest­ment in new tech­nolo­gies and in the main­te­nance of infra­struc­ture as well as the reduced water con­sump­tion in gen­er­al, even though these declines were well com­pen­sat­ed by sub­se­quent eco­nom­ic stim­u­lus pro­grams after 2007.


Conclusion
The stock mar­ket is open­ing up more and more to water as an invest­ment top­ic, be it through funds and ETFs, cer­tifi­cates or com­pa­nies in the water indus­try going pub­lic. The glob­al water mar­ket faces huge chal­lenges over the next 20–30 years, which in turn involve high lev­els of invest­ments from which long term investors can ben­e­fit from by mak­ing the right invest­ment deci­sions. Be it through reg­u­lar and secure div­i­dend pay­ments or sus­tain­able increas­es in the prices of stocks, investors with a medi­um to long-term invest­ment hori­zon should increas­ing­ly devote them­selves to water invest­ment.