Water in the 21st Century
Access to water is con­sid­ered a fun­da­men­tal human right and tak­en for grant­ed by many west­ern peo­ple. Nev­er­the­less, due to the rapid­ly grow­ing world pop­u­la­tion and the ever-increas­ing demand for water, the nat­ur­al resource is steadi­ly becom­ing a pre­cious and sought-after resource. 2/3 of the earth­'s sur­face are cov­ered with water. How­ev­er, the break­down looks like this:
---
97.5% of the world's water resources are salt­wa­ter resources
2.5% of the world's water resources are fresh­wa­ter resources
-
The 2.5% fresh­wa­ter is divid­ed into:
68.9% ice of the glac­i­ers
30.8% ground­wa­ter
and only 0.3% of fresh­wa­ter resources fall on lakes and rivers
---
The Unit­ed Nations expects the world to con­sume up to 40 per­cent more water by 2025 than it did in 2015. In par­tic­u­lar, the grow­ing pop­u­la­tion and chang­ing dietary habits will increase water demand over the next few decades. The steadi­ly improv­ing stan­dard of liv­ing in the emerg­ing mar­kets also involves the use of more water and is becom­ing even more a chal­lenge as the water inten­sive west­ern lifestyle is tak­en as ori­en­ta­tion. Accord­ing to UNESCO, the inhab­i­tants of the indus­tri­al­ized coun­tries con­sume about ten times as much water a day as the inhab­i­tants of the emerg­ing and devel­op­ing coun­tries. How­ev­er, as 70% of glob­al water con­sump­tion con­tin­ues to be account­ed for by agri­cul­ture, grow­ing con­sump­tion and ris­ing demand for food are also caus­es of increas­ing water con­sump­tion.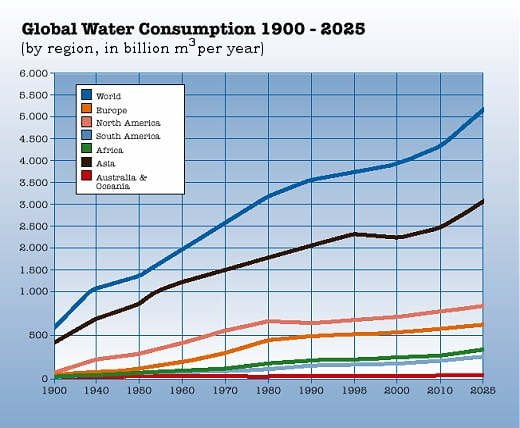 Source: wrsc.org, World Resources Sim­Cen­ter
Water plays a cru­cial role in this cen­tu­ry and most prob­a­bly even beyond. How­ev­er, the top­ic does not yet get the nec­es­sary atten­tion it should receive. Nei­ther in pol­i­tics nor in soci­ety or on the world's stock exchanges are peo­ple in charge enough ded­i­cat­ed to the top­ic although we are already con­front­ed with water prob­lems in most parts of the world. There is gen­er­al­ly no short­age of clean drink­ing water in West­ern indus­tri­al­ized coun­tries, but, for exam­ple, even in so called rich Europe do live 120 mil­lion peo­ple with­out reg­u­lar access to clean drink­ing water. To over­come the glob­al water prob­lem, in 2000 the Unit­ed Nations for­mu­lat­ed the so-called Mil­len­ni­um Devel­op­ment Goals. Accord­ing to these goals, the num­ber of peo­ple who do not have reg­u­lar access to safe drink­ing water should be reduced by half by 2015. At the same time, access to san­i­ta­tion should be sig­nif­i­cant­ly improved. If one exclud­ed Africa and the Mid­dle East, the first goal would have been achieved at that time, but the sec­ond goal was con­sid­er­ably missed. In 2020, every sec­ond per­son in devel­op­ing coun­tries has no access to stan­dard san­i­tary equip­ment. How­ev­er, if all humans could get access, at least 10% of all dis­eases world­wide could be pre­vent­ed. This alone shows the enor­mous invest­ment needs in the san­i­tary sec­tor in the com­ing years.
Make Water, Not War
In the fore­see­able future, the Mid­dle East and North Africa could be head­ing for a threat­en­ing water short­age. Sau­di Ara­bia, Libya, Jor­dan and also Israel cov­er a large part of their water needs from fos­sil ground­wa­ter reser­voirs. How­ev­er, these filled mil­len­nia ago, when the cli­mate of the region was even wet­ter. The worst sce­nario would be that these reserves are used up in already a few decades. Thus, pre­cau­tions and coun­ter­mea­sures should be tak­en now to ensure fur­ther and sus­tain­able water sup­ply in these coun­tries. Because even today there are already armed con­flicts over water reserves in the regions, which, accord­ing to Mid­dle East experts, will wors­en in the future if appro­pri­ate mea­sures are not tak­en in time to coun­ter­act the water short­age in the region. Even India, a coun­try with more than 1.3 bil­lion inhab­i­tants, has also been strug­gling for decades with an ever-increas­ing water short­age threat espe­cial­ly for farm­ers but also for peo­ple in the cities and the econ­o­my as a whole. This water short­age is like­ly to wors­en in the com­ing years with a result­ing back­log in water tech­nol­o­gy and infra­struc­ture becom­ing even big­ger. Accord­ing to the Coun­cil on Ener­gy, Envi­ron­ment and Water, an Indi­an non-prof­it research insti­tute, every Indi­an had access to up to 5,200 cubic meters of water per day in 1951. In 2010, how­ev­er, this fig­ure was only 1,600 cubic meters and, accord­ing to recent fore­casts, it will drop below 100 cubic meters in the next 30 years. The rea­son for the threat­en­ing water short­age in India is the rapid­ly grow­ing pop­u­la­tion, the extreme­ly water-inten­sive agri­cul­ture, the inef­fi­cient and often cor­rupt trans­port of water reserves and, above all, the ail­ing water infra­struc­ture, which is respon­si­ble for high water loss­es through­out the coun­try. Effi­cient irri­ga­tion sys­tems, such as those already pro­duced by some com­pa­nies today, could be a first step towards actu­al­ly reduc­ing water scarci­ty in India which leads to ever increas­ing social unrest in this coun­try.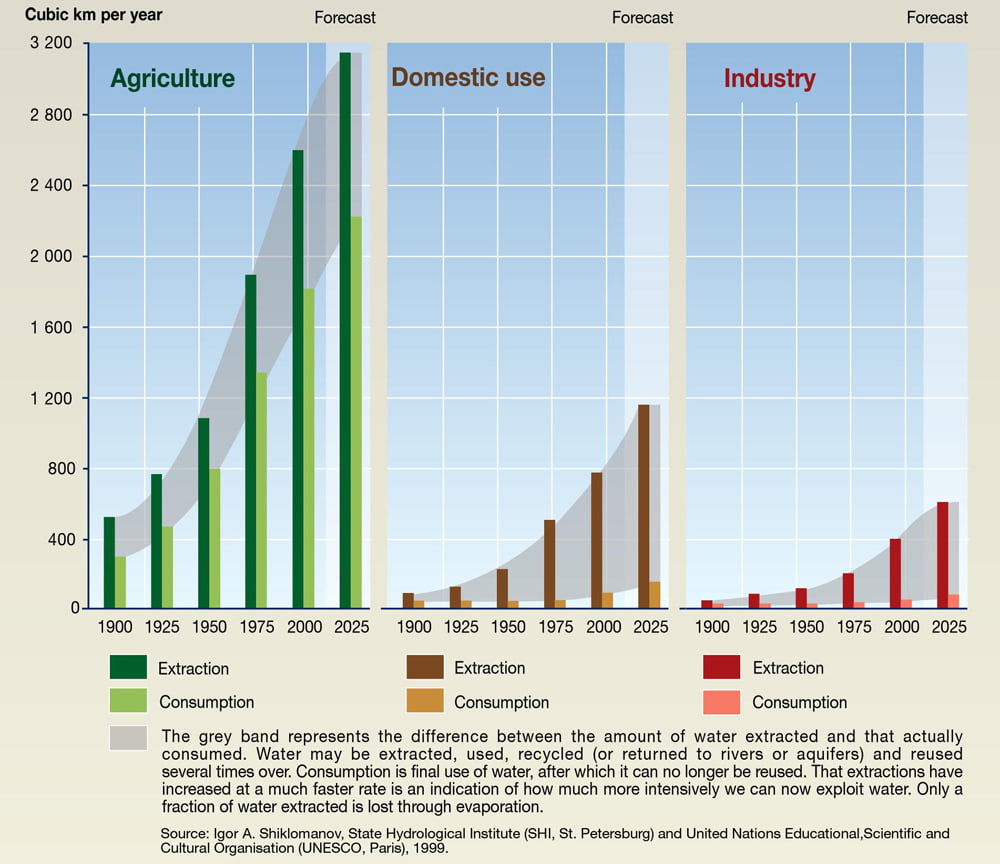 Source: https://www.grida.no/
The biggest water con­sumer is the agri­cul­ture sec­tor which con­sumes about 70% of the water which is used all over the world. In order to guar­an­tee food secu­ri­ty in the com­ing decades, con­sid­er that by 2050 the world's pop­u­la­tion is expect­ed to increase by up to three bil­lion, cer­tain long term mea­sures must be tak­en. These mea­sures range from reduc­ing loss­es in food pro­duc­tion to repro­cess­ing the water. This will require tech­nolo­gies from com­pa­nies that already today spe­cial­ize in water tech­nol­o­gy. Above all, the focus will need to be more on intel­li­gent irri­ga­tion tech­nol­o­gy to meet ris­ing demand.
Pop­u­la­tion growth is pro­gres­sive, and with that the ever-increas­ing desire for altered dietary habits. Espe­cial­ly Asia and Africa adapt more and more to the west­ern lifestyle, which is very water inten­sive. Cli­mate change also caus­es ris­ing water invest­ments. The World Bank pre­dict­ed in 2010 that as a result of a 2‑degree increase in tem­per­a­ture, between 2020 and 2050, up to $20 bil­lion will have to be invest­ed annu­al­ly in water-sup­ply mea­sures. So does the cli­mate change addi­tion­al­ly wors­en the world water short­age and espe­cial­ly the urgent need for water in the agri­cul­ture sec­tor. Researchers have just pre­dict­ed that peo­ple in Africa and India will be the most affect­ed by an increase in tem­per­a­ture in the 21st cen­tu­ry if coun­ter­mea­sures are not being tak­en in time. Beyond that, look­ing at the west­ern water infra­struc­ture, things does not get bet­ter. In the west­ern states, no major pub­lic invest­ment in water infra­struc­ture has been made for many years. Here, the reha­bil­i­ta­tion and mod­ern­iza­tion of an inef­fi­cient and out­dat­ed infra­struc­ture in the com­ing years is urgent­ly need­ed. Near­ly 30 mil­lion liters of water seep into the soil every day. The water­works are out­dat­ed and in need of ren­o­va­tion. Large parts of the water infra­struc­ture in the US are over 100 years old, some even over 200 years. That's why the US Envi­ron­men­tal Pro­tec­tion Agency (EPA) esti­mates that $138 bil­lion will be invest­ed annu­al­ly in the next few years in the much-need­ed mod­ern­iza­tion of Amer­i­can water infra­struc­ture. The OECD esti­mates that more than $40 tril­lion will have to be spent on expand­ing and main­tain­ing the entire infra­struc­ture between 2010 and 2030 world­wide. The high­est demand here is the water sec­tor with an annu­al invest­ment of $900 bil­lion, fol­lowed by road con­struc­tion with $270 bil­lion and ener­gy sup­ply of $210 bil­lion. Chi­na's gov­ern­ment, for exam­ple, announced in 2011 that it would invest around $ 580 bil­lion in water sup­ply and treat­ment by 2021.
The reli­able sup­ply of drink­ing water is one of the key tasks of the 21st cen­tu­ry. Around the water and its treat­ment process­es, a bil­lion-dol­lar mar­ket has mean­while devel­oped. Giv­en the scarci­ty of this resource, the fast-grow­ing world pop­u­la­tion and also the cli­mate change, water should con­tin­ue to gain eco­nom­ic impor­tance in the com­ing years.